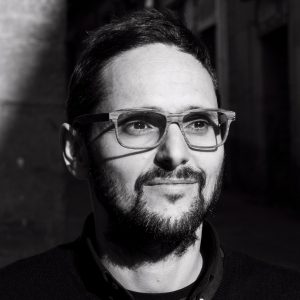 Pablo DeSoto is an architect, hackitect and researcher, working at the intersection of architecture with digital media, the environmental humanities and the arts. His practice-led research uses fieldwork, disruptive technologies, radical cartography and critical epistemologies to produce spatial knowledge and investigate the urgent political and environmental conditions of our time, in collaboration with other spatial practitioners, ground-breaking artists and the social movements.
Since early 2000s he has pioneered a wide range of projects on the disruptive impact of digital media technologies and the internet on public space and territory — most prominently hackitectura.net (2002-2011), a group of architects, computer specialists and activists.
He is the editor of three books and coauthor of the Critical Cartography of the Straits of Gibraltar. He holds a Master Degree in Architecture from the Royal Institute of Technology of Stockholm and a PhD in Communication & Culture from the Federal University of Rio de Janeiro with his dissertation entitled Anthropocene, Capitalocene, Chthulucene, staying with the trouble in Fukushima.
In 2010 he launched Mapping the Commons, a parametrical experimental method and multiyear research participatory project on urban commons with six case studies in Europe and South America awarded with the Elinor Ostrom prize by University of Buenos Aires. In 2015 he created the Drone Hackademy, a temporary school, citizen science laboratory and critical theory platform for the use and discussion of unmanned aerial vehicles as a social technology.
Pablo DeSoto has lectured, exhibited and teached worldwide. He is currently affiliated researcher within the DTST research project, a collaboration between Umeå School of Architecture and Rise Interactive in Sweden.
Download CV.
Download Portfolio.
Link to Pedagogic Portfolio.