Soy arquitecto y académico con 20 años de experiencia internacional en ideación y gestión de proyectos artísticos interdisciplinares que aportan un enfoque integrador de la cultura del siglo XXI y las transformaciones trascendentales de la era digital y la transición ecológica.
BIO
Pablo DeSoto (Gijón, 1977) is an experimental architect, critical cartographer, scholar and educator with an iconoclastic experience across geographic and disciplinary borders.
He works at the intersection of art and architecture with digital media technologies exploring new conceptual frameworks and cutting-edge tools. His practice-led research uses fieldwork, radical cartography and critical epistemologies to produce spatial knowledge and investigate the urgent political and environmental conditions of our time.
From 2000 to 2011 he was a co-founder of hackitectura.net, a group of architects, computer specialists and activists -inspired by science fiction, Zapatism and Situationism-, who pioneered a wide range of experimental architecture projects on emancipatory uses of hardware, software and the internet on public space and territory.
DeSoto has an adventurous personality, strong curiosity and an outstanding global perspective on contemporary culture and technologies due to his intensive experiences in some of the most critical nodes of today's networked world: from Palestine to the Brazilian favelas, from the Strait of Gibraltar to Fukushima.
He holds a Master Degree in Architecture from the Royal Institute of Technology of Stockholm and a PhD in Communication & Culture from the Federal University of Rio de Janeiro. He is the editor of three books and coauthor of the Critical Cartography of the Straits of Gibraltar exhibited worldwide.
DeSoto has a creative approach to pedagogy always in the search for inventive strategies, experimental methods and imaginative processes.In 2010 he launched Mapping the Commons, a parametrical experimental method and multiyear research participatory project on urban commons with six case studies in Europe and South America awarded with the Elinor Ostrom prize by University of Buenos Aires. In 2015 he created the Drone Hackademy, a temporary school, citizen science laboratory and critical theory platform for the use and discussion of unmanned aerial vehicles as a social technology.
Some of his latest lectures include keynotes at Unmapping Infrastructures Architektur Forum Linz and the 2018 Creative Time Summit in Miami. His latest exhibition is The Zone, a project about the Anthropocene/Capitalocene landscapes of our damaged planet taking Fukushima nuclear disaster as case's study. It explores the possibilities of interactive cartographic displays in visualizing the complexity of contemporary environmental disasters.
AWARDS
2019 NTNU AiR Award, Norwegian University of Science and Technology. Competitive fellowship awarded annually to extraordinary practitioners working at the intersections of digital technology and creative arts. Over the last few years, the award focus has gravitated toward art experimentation at the forefront of broadly understood environmental art and humanities, with explicit commitment to digital public art and social justice. Awarded artists include Jodi, Alex Murray-Leslie and Nelly Ben Hayoun.
2018 DKV LABoral Award, organized by LABoral Centro de Arte & DKV.
2013 Elinor Ostrom Award, by Program on Democracy, Society, New Economies, University of Buenos Aires.
2011 Tokyo Wonder Site Artist in Residence.
2009 EME3 Architecture Festival Barcelona Award, Laboratories Category Award.
2009 Townhouse Gallery Cairo Artist in Residence, supported by Spanish Embassy in Egypt.
2007 LAB_Joven Experimenta Award, LABoral Art & Industrial Creation Centre.
2007 LAB_Cyberspaces Award, LABoral Art & Industrial Creation Centre. Open international call fostering reflections on the connection between art, technology and industry. Jury members included Gerfried Stocker and Christiane Paul.
2006 Plaza de las Libertades Sevilla International Architectural Competition Award.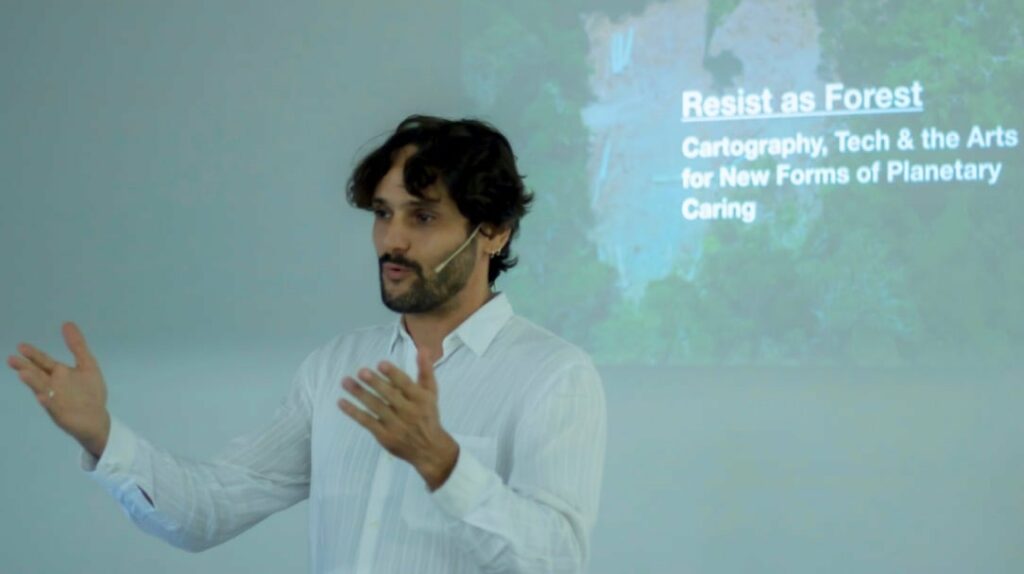 CV
CONTACT
email: pablodesoto at gmail dot com