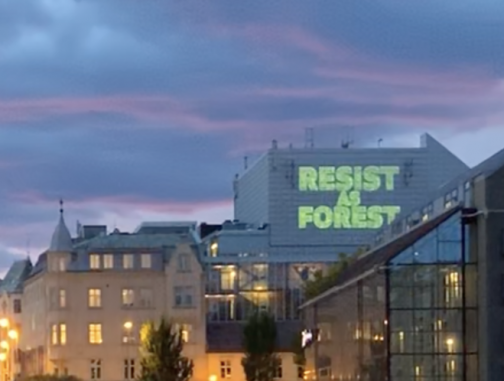 "To be able to resist we must become forest – and resist as forest. Like a forest that knows that it carries the ruins, that carries with it both what is and what is no longer. It seems to me that it is this political-affective feeling that we need to shape to make sense of our action." Eliane Brum, Rainforest Journalism Fund meeting, Manaus, Brazil (12/7/2019).
RESIST AS FOREST, an ARTEC-produced art exhibition and cityscape installation
@ Adressaparken, an interactive cyberpark, September 27th 2019
https://www.youtube.com/watch?v=DcGHhxu59TI
Resist as Forest was a site-specific art intervention designed for Adressaparken, an interactive park in Trondheim as part of the NTNU Artist-in Resident Program. It was created by Pablo DeSoto, a Brazil-based scholar and cartographer and the 2019 NTNU ARTEC Artist in Residence and curated by Hanna Musiol (ISL/ARTEC), together with local artists, scholars, technologists, and community members (Alex Murray-Leslie, Andrew Perkis, Sara Brinch, Olga Lehman, Shreejay Shrestha, Vilde Borgan, and Ada Hoel). It was directly inspired by the work on deforestation, art, and knowledge-making of an award-winning journalist and writer, Eliane Brum. The material for the video and sound installation had been developed in a series of workshops and lectures in Brazil and Norway, in collaboration with NTNU students, artists, and environmental activists.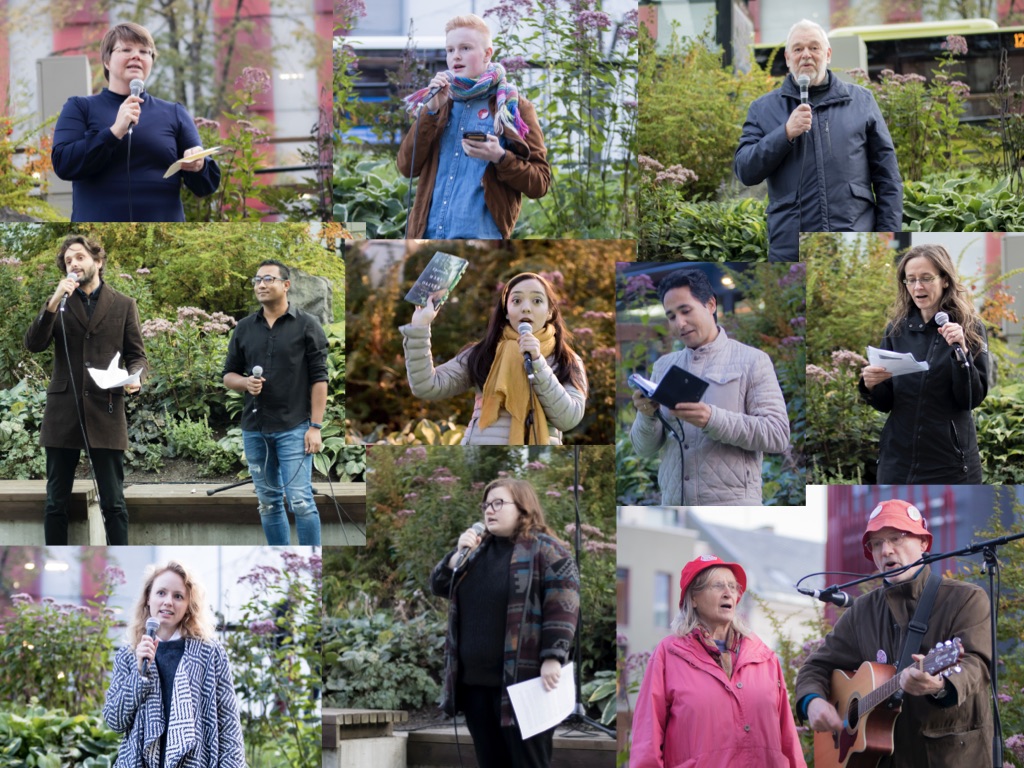 Resist as Forest used the Trondheim interactive park, Adressaparken, but also expanded the form and scope of the artistic intervention. It involved an immersive sound installation, a cityscape 3D video projection on the Olavskvartallen, a multilingual environmental storytelling session, a street theatre, and a public assembly. The sound installation at Adressaparken was a composition mixing public domain Amazon wildlife sounds and local Norwegian rainforest, together with multilingual statements from forest protectors, local and transnational artists, scholars, and students. On September 27, as part of the Global Climate Strike, Adressaparken was converted into a temporary planetary art space for artist and civic engagement devoted to the current ecological crisis in the Amazon rainforest and beyond.
Institutional Partners: The event was organized by NTNU ARTEC and Adressaparken with the support of the Humanities Faculty, Trondheim Kunstakademiet (KiT) at NTNU, Trondheim PoesiKveld, and Gibberish / Artistic Directors: Pablo DeSoto and Alexandra Murray-Leslie / Curator: Hanna Musiol / Organizers: Hanna Musiol, Andrew Perkis, and Sara Brinch / Moderators: Olga Lehmann, Sophia Efstathiou, Stella Mililli / Student Assistants: Shreejay Shreshta, Vilde Borgan, Sepehr Haghighi
Special thanks for advice, resources, soundwork, images, tech support, & trust: Dagfinn Dybvig; Sofie Månsson; Irene Dominguez & World Cultures United; the Kayapo people; Andreas Bergsland; Robin Støckert; Aajege, Ánde Somby, Helen Murray, and Aida Miron; Frank Ekeberg; codeofconscience.org; the Macaulay Library; students @ Music / Music Technology, Trondheim Kunstakademiet (KIT) & Department of Language and Literature: Christopher Logan, Siddharth Gautam Singh, Ada Mathea Hoel, Unnur Andrea Einarsdóttir, Mina Paasche, Joachim Sture, Jørgen Wassvik, Berke Ince, Lisa Størseth Pettersen, Samrridhi Kukreja, Jennifer Petzold, Srinavin Shiva, Chen Lili Zaneta Jianing Zuo, Erin Akawachi, Hilde Edvardsen, Karolina Jawad, Aage A. Mikalsen, Sigrid Voll Bøyum, Woon Ting Chan, Bjørg Madelén Gamborg-Nielsen, Mahsa Hamed Mousaviyan, Laura Henrike Hurenkamp, Erina Kawachi, Trond Nesheim, Jennifer Petzold, Srinavin Kumar Raja, Shiva Sherveh, Lili Zaneta, Jianing Zuo, Brooke Eriksen, Mari Ellevseth Oseland, Jørgen Vie, & Vova Gabissov; Krzysztof Orleanski, Adressaparken; Besteforeldrenes Klimaaksjon & Natur og Ungdom; Heli Aaltonen; NTNU Environmental Humanities Research group; Litteratur for Inkludering; & Kunsthall Trondheim.