"To be able to resist we must become forest – and resist as forest. Like a forest that knows that it carries the ruins, that carries with it both what is and what is no longer. It seems to me that it is this political-affective feeling that we need to shape to make sense of our action." Eliane Brum, Rainforest Journalism Fund meeting, Manaus, Brazil (12/7/2019).
Resist as Forest is an art and technology project responding to the current increase of deforestation in the Amazon and worldwide.
For Brazilian journalist Eliane Brum, to "resist as forest" means first shifting a few tectonic plates in our thinking. It means that we have to decolonize ourselves and put the Amazon at the center of our world. The Amazon is not anymore a distant or peripheral problem or place. Maintaining this forest and this world alive means switching from social extractivist processes to a mode of care and protection.
The project created by Pablo DeSoto, a Brazil-based scholar, radical cartographer and 2019 NTNU ARTEC Artist in Residence, together with local stakeholders, borrows Eliane Brum's concept to invite for a local and international community to think about ways to resist deforestation.
Resist as Forest was initially launched as a site-specific art intervention designed for Adressaparken, a cyberpark in Trondheim (Norway). It took place in the context of the Global Climate Strike, a civil society action all around the world demanding climate justice for everyone and an end to the age of fossil fuels.
Resist as Forest used the Trondheim cyberpark, Adressaparken, a technological public space site equipped with environmental sensors to respond to the Amazon crisis in real-time. The goal of the intervention was to turn Adressaparken into a temporary planetary public space for citizen engagement, political discussions, and a grassroots action devoted to the current crisis in the Amazon rainforest and to environmental action beyond the current emergency. Together with scholars, journalists, students, politicians, and activists, we collectively reflected on what "resist as forest" could mean.
Resist as Forest Adressaparken intervention took the form of a soundscape, a public assembly, and a video projection.
The material for the soundscape has been developed in a series of workshops in Brazil and Norway, in collaboration with students, artists, and environmental activists. The sound installation at Adressaparken presents a composition mixing public domain Amazon wildlife sounds together with multilingual statements from forest protectors, local and transnational actors, and artists.
The public assembly consisted on a warmup titled Becoming Trees with Alex Murray-Leslie & students from Trondheim Kunstakademiet (KiT) Music/Music Tech, NTNU, a Welcome to the cyberpark (by Sara Brinch, Andrew Perkis, Hanna Musiol); a Trondheim Environmental Scene session moderated by Vilde Borgan; a Environmental Storytelling + open mic led by Olga Lehmann of Trondheim Poesikveld; and Foresting with Gibberish Improv. Download full program.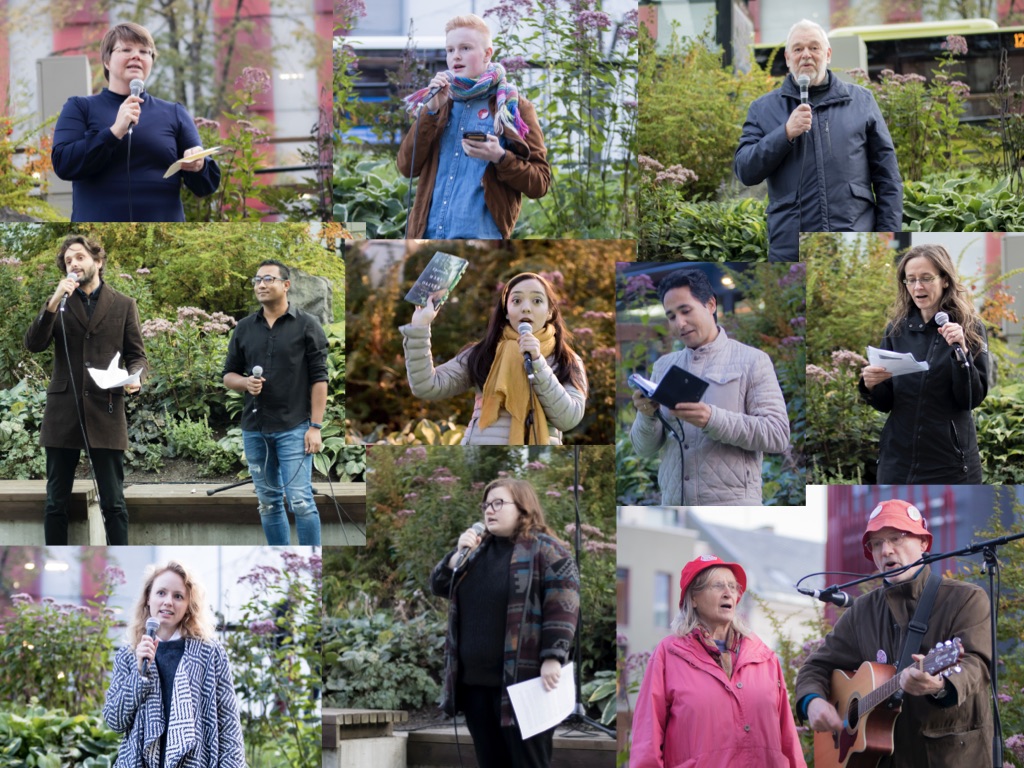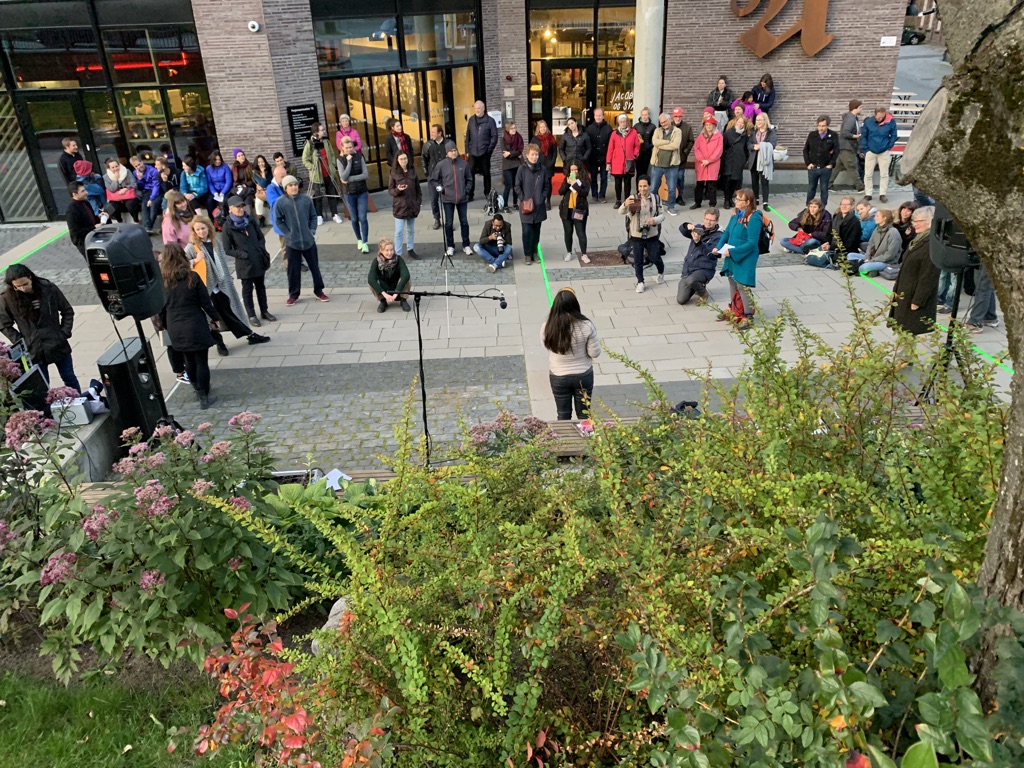 The video projection on Olavshaallen theatre facade included "Resist as Forest" titles in twenty-four different languages, plus a 3D animation on ecosystems resilliance.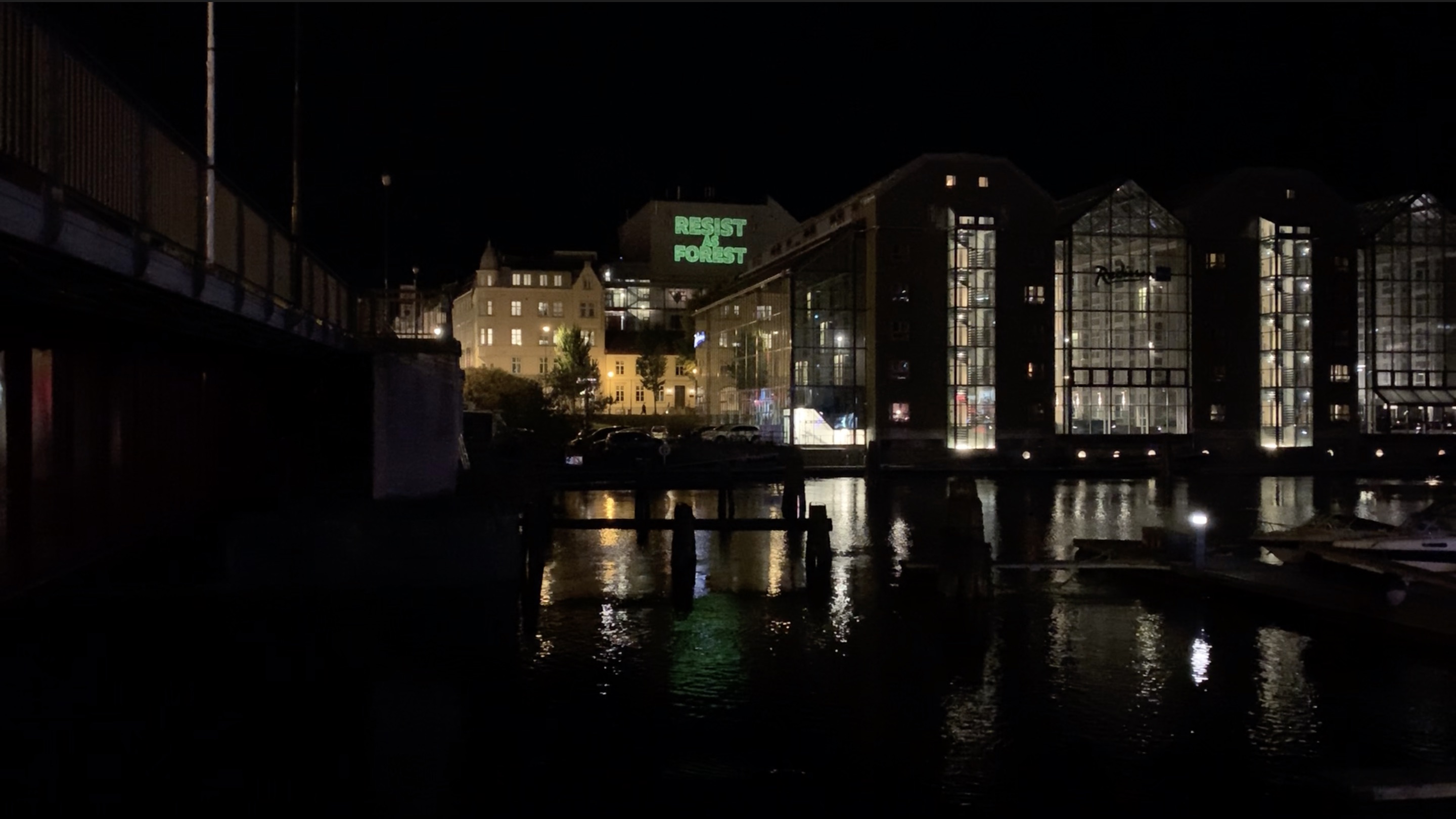 CREDITS
Soundscape: Concept and curatorial work by Pablo DeSoto. Mixing and Editing by Shreejay Shrestha. Sound fragments from Frank Ekeberg; codeofconscience.org;  Sofie Månsson; Irene Dominguez & World Cultures United; the Kayapo people. Ada Mathea Hoel, the Macaulay Library
3D Animation and Titles: Concept by Pablo DeSoto and Siddharth Gautam Singh. Artwork by Siddharth Gautam Singh.
Public Assembly: Robin Støckert; Aajege, Ánde Somby, Helen Murray, and Aida Miron; Extinction Rebellion Trondheim; ; students @ Music / Music Technology, Trondheim Kunstakademiet (KIT) & Department of Language and Literature: Christopher Logan, Ada Mathea Hoel, Unnur Andrea Einarsdóttir, Mina Paasche, Joachim Sture, Jørgen Wassvik, Berke Ince, Pål Lersveen, Lisa Størseth Pettersen, Samrridhi Kukreja, Jennifer Petzold, Srinavin Shiva, Chen Lili Zaneta Jianing Zuo, Erin Akawachi, Hilde Edvardsen, Karolina Jawad, Aage A. Mikalsen, Sigrid Voll Bøyum, Woon Ting Chan, Bjørg Madelén Gamborg-Nielsen, Mahsa Hamed Mousaviyan, Laura Henrike Hurenkamp, Erina Kawachi, Trond Nesheim, Jennifer Petzold, Srinavin Kumar Raja, Shiva Sherveh, Lili Zaneta, Jianing Zuo, Brooke Eriksen, Mari Ellevseth Oseland, Jørgen Vie, & Vova Gabissov; Krzysztof Orleanski, Adressaparken; Besteforeldrenes Klimaaksjon & Natur og Ungdom; Heli Aaltonen.
This event and art/public storytelling installation work would be impossible without a transnational collective of co-creators including Dagfinn Dybvig, Andreas Bergsland, NTNU Environmental Humanities Research group & Kunsthall Trondheim, Tatiana Wells and many others.